Take back control of your cravings
Don't let an urge to smoke get in your way. THRIVE gum can help you reduce the cravings fast. Plus, it's sucrose-free, comes in mint or fruit flavours, and whitens teeth.
Nicotine replacement therapies (NRT) like THRIVE gum can be really helpful in helping you to quit. You can even combine the gum with other replacement forms if recommended by your doctor.1 Learn more about the THRIVE nicotine chewing gum range and how it can help you quit smoking below.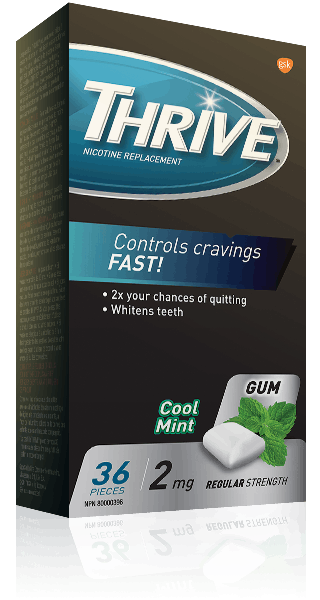 Why choose THRIVE gum
Nicotine replacement gum helps smokers to quit cigarettes by quelling cravings and preventing some other nicotine withdrawal symptoms, such as frustration and anxiety.2 There are several benefits to choosing THRIVE gum on your quest to quit, including:
THRIVE nicotine replacement gum comes in two fresh and fruity flavours to satisfy all tastes
Allows nicotine to be absorbed into your bloodstream without smoking tobacco3 – helping you successfully quit smoking
Eases cravings quickly when the urge to smoke strikes
THRIVE nicotine gum is sugar-free
THRIVE gum comes in two strengths: 4mg for heavy smokers (over a pack a day) or 2mg for lighter smokers (under a pack a day).
Use THRIVE gum (2mg and 4 mg) up to 20 pieces a day when you get a craving, most people require approximately 10 pieces a day.
Which THRIVE gum is right for me?
How to Use THRIVE Gum
THRIVE nicotine gum is simple and easy to use – follow these instructions to beat your cravings quickly:
Pop a THRIVE gum in your mouth when you crave a cigarette
Chew until you start tasting a strong nicotine flavour
Let the gum rest between your cheek and gums so that your body can absorb the nicotine. Do this until the taste fades
Start chewing the gum again and again until a strong taste is noticed
Repeat the above steps for around 30 minutes before you discard the gum. Do not continuously chew the gum without resting it – this will stop your body from absorbing the nicotine4
Do not eat or drink for 15 minutes before or during chewing the gum, as acidic foods or drinks like coffee and soda can prevent it from working properly5
Do not exceed: THRIVE® gum 2 mg (for less than 20 cigarettes/day smokers): 20 pieces per day THRIVE® gum 4 mg (for 20 or more cigarettes/day smokers): 20 pieces per day